Residential Locksmith
Back To Our Services
Our locksmith company has gained a leadership position in the provision of residential services thanks to our high level of quality, speed and expertise. We install, fix, rekey and replace locks of all types used in homes from the traditional mortise sets to the advanced digital devices. Our services include key repair and replacement as well. Seek our assistance in case of an emergency and we will help you in the shortest possible time. Count on our company to suggest and implement solutions for improving the security of property. Our commitment is to achieve top results in the shortest time.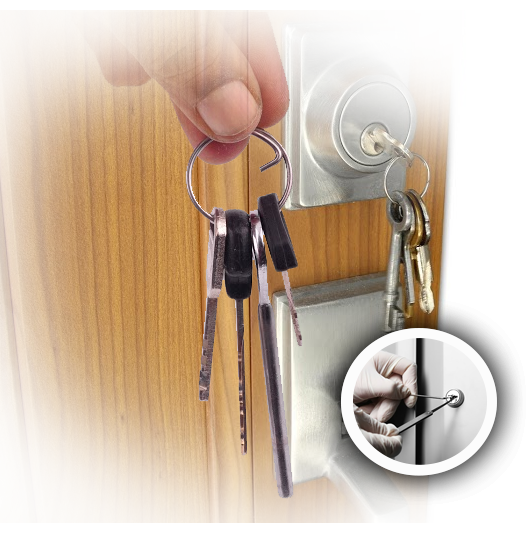 Perfect Solutions from Experienced Specialists
We offer a full range of services to house and apartment owners and renters. One of our most frequently used services is emergency lockout opening. Our technicians arrive quickly and resolve the problem on the spot. Rest assured that we use only the most effective and safest techniques for unlocking doors. We use only the finest advanced tools for the job as well. These factors help us to ensure that we open the door in the shortest time without affecting adversely any of its components.
Since our company offers fully comprehensive solutions, we not only deal with the nature of the problem, but with its cause as well. When the lockout is due to stolen or lost house keys, we will rekey the lock so that it can be used with a different set of keys. Our professionals have mastered rekeying to perfection and achieve maximum accuracy for smooth performance of the locking device. In case the door lockset is greatly damaged, worn-out or outdated, we will replace it directly in order to achieve the optimal level of property security. We, at "Locksmith Huffman", give our customers the opportunity to select between different types of locks depending on their needs and requirements.
Our lock repair service is designed for restoring the condition and functionality of these devices. We are highly effective in eliminating all sorts of issues from common ones like rust and freezing to complex ones which involve different internal components. If there is a need for replacing any of the components of the lockset, we will use only the best spare parts. You can be certain that they are functional, strong, durable and reliable.
Hire us for the scheduled installation of any type of lockset and we will do a fantastic job. Our technicians work quickly and with maximum effectiveness. We are readily available to provide full consultation on the choice of locking device as well. It can be based on property security analysis provided by our specialists. Do not miss to take advantage of the additional solutions for home security improvement that we offer such as safe installation.
Send us an email to make an enquiry.